Biker Jacket Buying Tips To Make You Look Like A Badass
---
Biker jackets have been around since the late 20s and they have evolved over time to become the baddest of leather jackets and more. When you are looking to buy a biker jacket there are certain details you must look out for so it does not look like the cheap copy everyone has, but instead an original, good quality and most of all durable leather biker jacket that will last you many years to come! So without further adue, here are some of the biggest tips on how to buy your very own biker jacket.
1. The Leather
The leather of the jacket is the most important part of it, so it goes without saying that you need to make sure you get a good leather jacket. The leather must be thick and sturdy but not too heavy and stiff as that will make it uncomfortable to wear. You should also look out for a nice grainy surface on the leather which gives it that vintage look and feel.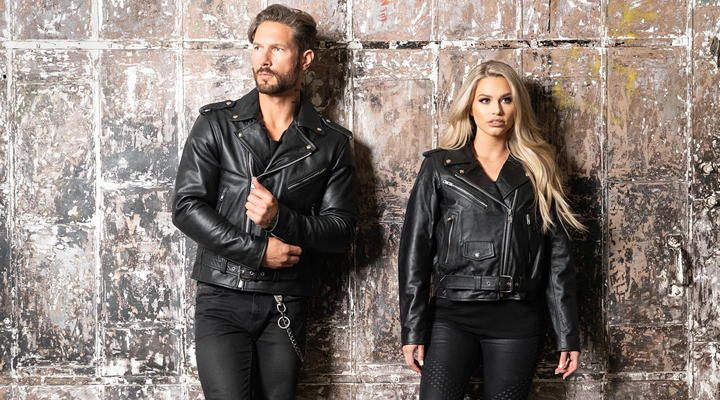 2. The zippers
A good zipper on a biker jacket is absolutely essential because they add character to the jacket and can tell you a lot about your future purchase just by looking at them. The best zip for a biker jacket is a YKK or YKK 2 way zipper. They are the most durable and reliable zippers out there and they can be found on many high-quality leather jackets. You should also look out for metal zippers, which are an extra option but it will make your jacket look more authentic and characterful.
3. The Back
A lot of people don't know this but having a look at the back of the jacket is a good indication of how durable and well made it is. If you look it should be made with a real single panel, not two stitched together with some fake stitches. The stitching should be done neatly and without mistakes. If you see any mistakes or anything that looks like it was made in haste you should reconsider buying that jacket as it shows they are not very careful in their work.
You should keep in mind that a biker jacket is a leather item, as such, it means it will have to be looked after and maintained. You can't expect the leather to last forever or even decades if you don't take proper care of it. Instead you are better off spending your money on some other items that would last much longer than your biker jacket but if that's not possible then buying the best quality one available is still definitely worth the moneyís.